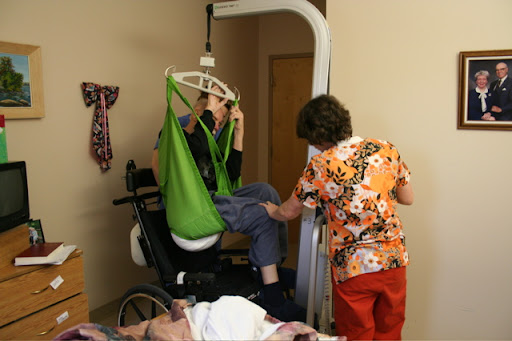 I disagree that it is a policy that makes seniors wait for placements. It is an increase in demands of the system and the Silver Tsunami. In our case my father was placed within 3 weeks. We put him in a private room. No, he didn't like it, but he was immobile, incontinent, and we could neither lift him, nor provide those intimate pieces of care so important to all of us.
Many seniors refuse to leave their homes. They wait until it is too late to make a decision, and they then have to be put in Long-Term Care (LTC).
In Muskoka, seniors refuse
to leave homes, require much support at home and end up in hospital, too ill to go back home, and breaking fragile bones. The demands on loved ones is huge, with senior caregivers, often spouses, facing burnout and depression.
The other issue is that most of our LTC homes (500/600+ in Ontario, for example) are for-profit centres who rely on government money to survive, in order to make a profit. It is far more complex that waiting times, it is infrastructure and the sudden influx of seniors living longer, and needing more care.
The great media blitz, with journalists charged with showing the difficulties of our system, is putting everything out of proportion. These 3 writers:
Ontario's long-term care system is paralyzed, and failing its most vulnerable...
are all part of the bandwagon.
Yes, we have wait times. Yes, we have people in hospital (Alternate level of care: ALC) who could be better placed in LTC, but we have many more who insist on their independence until it is too late. LTC is expensive, and many want to stay at home. But the reality is that we cannot afford, as taxpayers, to keep every ailing senior in their homes. We do not have the Personal Support Workers (PSWs) required to make the system work. There are insufficient hours, and personnel in many places, e.g., the north, to make this work more than on a part-time basis.
There comes a point when a senior must relinquish their home, and pay for support services for their activities of daily living (ADL). My mother refused to move, despite being unable to get groceries, drive the car, pick up a newspaper, get mail from the post office and all the other activities. This meant that someone has to pick up the ball. In my case, it was me. She had chemo, on top of her other medical issues, against what I thought a logical treatment plan, while my father had radiation treatments for a brain tumour that had returned.
These treatments stopped them in their tracks. They needed full-time care. And still my mother wanted to stay at home. Our hospitals are crowded. Seniors are becoming increasingly frail. LTC homes are sending residents to hospital (the emergency department) who should not be there. It is a vicious circle.
I recall, during the 30-hour blackout, hubby as manager directing traffic for airport passengers in the long lines. Most were resigned. Most accepted the reality of the situation. He heard a TV crew yelling across the place to the reporter, 'I found a crier!' and they all hustled over to film the one person in tears trying to get a flight out of town.
The media isn't telling the wonderful stories about those who are coping well. It is shameful. They are not speaking of the peaceful passing, pain free, of those who have lived good lives. I had a client in The Pines, LTC, and they did a masterful job, in this public (non-profit) institution, to give him excellent care.
My dad was well-done by in LTC, for the most part. His physician let me down. But that is another story.